Less angsty and more pirate-y!
There are so many places I can start, so I'ma have to keep this post tight. Ready? Focus.
As long as we're on truly pressing matters, lemme send a big shout out to my dawg Hot Pie. HP's been out the Game of Thrones a few seasons, but he's back for dat major plot development.
Dany opens the episode speaking with Melisandre about an ages-old prophecy. She explains to Dany that "the prince that is promised" will lead through The Long Night, aka The Night King's shit storm. They discuss the gender of the word, meaning it could refer to a princess.
But let's be honest. This is a distraction from the real prince that is promised (ahem):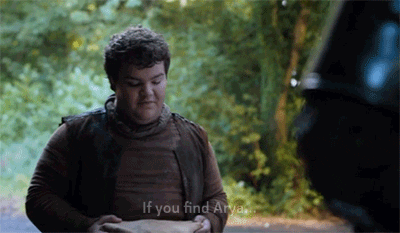 Can not wait for the Hot Pie ascent to the iron throne. Ok, as I said before, this one was packed.
Lady Olenna and the Sand Snakes pledged their armies' allegiance to Dany's movement. Grey Worm's leaving, so he had a passionate getcha-freak-on sesh with Missandei (Really! Watch the episode!) Tyrion's raven got to Jon (in the same episode lol) so now he's movin' to Dragonstone to see wassup with Dany. Sansa is holdin' down the North for Jon, and Little Finger couldn't look more creepy in the meantime.
All that's fine. But Euron had me ready to spit out this Tropical Gose (a tiny tragedy.)
Just when Yara is about to introduce herself to Ellaria, Euron comes crashing into the ship. An ultimate Yara-block move. He causes some damage that honestly, you needa see for yourself. I'm finishing up my Tropical Gose as this happens, and suddenly everything clicks.
Real Stranger Beers heads will remember the wild Avery El Gose I tried last year. Basically said that drink was too wild for my own good. Most qualities are here again in Ethereal's version. But somehow this one's a #banger.
Now I'll admit that doesn't make much sense. Before, I said goses live a "fuck your mouth, no rules" life style. What changed? I'll tell you. I spent a year drinking stuff and became Euron.
Yes. I'm Worlds Greatest Uncle holding my niece hostage, sippin' on a Tropical Gose. I'm killing Sand Snakes and throwin' my nephew into Reek Mode. And proud of it. Plot twist: goses are bangers! This is up Euron's alley. I'm an evil punk band drummer, and you should be too.
Quick notes:
Dany meeting Jon next week. Finally. Let's go.
Ethereal, please can Tropical Gose, or I'll be forced to raid the brewery Euron-style.
We'll be all caught up after Episode 3. Infinite content to keep you infinitely content.